Been a while since I did an update on my book collection.
Okay, picking up where we left off (in autographed art books):
I started reading Mad before I started reading Marvel comics and even after I became what I then considered too old for comics -- about 10th or 11th grade --- I still read Mad. This big book has bios on all the artists whose work has appeared in Mad, as well as examples of some of their best stuff. Hard for me to pick just one favorite, but if you put a gun to my head, I'll say "Jack Davis -- no, wait, Will Elder. . . although Mort Drucker's caricatures are just phenomenal. . ."
One of my favorite comic books is Legion of Super-Heroes, and like a lot of my favorite comics I no longer follow it. The problem with being a
long-time fan is that you're there when a series hits its peak, and sometimes it's hard to get excited about it once those golden days are over. For me the Legion peaked when Jeff Moy was the artist on that book. His characters -- particularly the females -- have such a sweetness about them. His art can seem somewhat simplistic when compared to some of his torturous contemporaries, but don't kid yourself, it takes a lot of talent to draw this cleanly and simply. I met Moy at a convention somewhere, purchased this sketch book and commissioned a picture of Shrinking Violet which is on the wall in front of my desk. I'm not going to take it out of the frame and scan it, but I'm sure after seeing these other samples of his work you'll have no problem taking my word for it that it is gorgeous.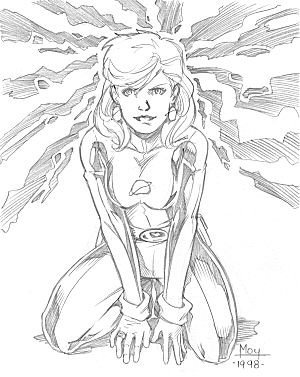 This next one is a retrospective on the life and art of George Perez. If you don't know who George Perez is you know nothing whatever about comics. He is probably most famous for doing books with tons of characters -- JLA, Avengers, Teen Titans -- and making all of those characters distinctive
.And just a couple samples of his magnificent artwork (cuz that Modern Masters cover really doesn't do him justice):
Another former-favorite series that I no longer read is Spider-Man. I'm actually a little bitter about this one. You see, I used to like John Romita's Spider-Man, but I loved his Gwen Stacy. Really loved. I'm not going to go on and on about her, mainly because I already have
here
, among other places. Suffice it to say I never cared about the book after she died. It just seemed pointless.
All right, that's all for now. I'm going to go light a candle for Gwen Stacy. We'll finish up the autographed art section next time.